The residents have been thoroughly enjoying our weekly church service kindly sent to us every week by revered Dave from St Andrews church in Maghull every Thursday morning. The residents remember prayers and certain hymns and it's an emotional time watching them singing and remembering the words to the prayers accurately.
The ladies of St Andrews have kindly knitted some shawls and other knitted items to cheer our residents up, they were dropped off by the reverend. When its safe to do so we will be able to invite the reverend into Damfield weekly to have services and he has told us the choir would only be to happy to put on a performance for us.
Our weekly coffee mornings each Wednesday always go down a treat. It gives the residents quality time to sit together and talk of times gone by, swapping stories about their families or their working life. We ask if there are any requests for songs and then we all end up having a good old sing song. Its very heart-warming at the end of the coffee morning when the residents are happy.
Every Friday is our ladies pamper day at the salon, the ladies are so happy to have their hair washed and styled how they request and a little spray of perfume leaves them feeling glamorous.
Every Friday we also show sports of some kind, we have shown old derby games between Liverpool and Everton, the Grand National and boxing matches. These are shown in our pub area with the gents enjoying snacks, swapping stories and shouting at the tv.
Residents have enjoyed decorating garden ornaments such as wind chimes and bird boxes and over the coming weeks we have plenty of other craft activities planned so our gardens will be looking very colourful in the coming weeks.
Some residents have enjoyed some gardening time planting seeds which have now sprouted into herbs.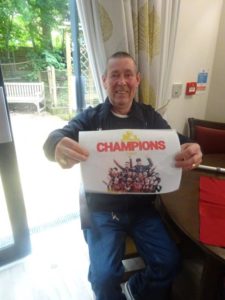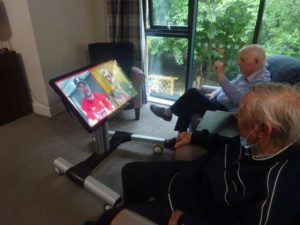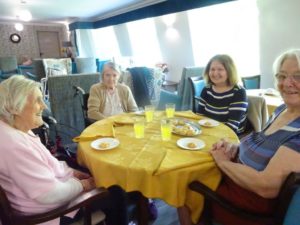 Last week our residents had a tea party to celebrate The Queen's birthday. The day began with some residents watching her birthday celebrations on the TV followed by the afternoon tea party. The residents enjoyed being King or Queen, wearing crowns and tiaras which had been decorated by themselves.
God save the queen was played and all of the residents were in fine voice singing ( some even standing up to sing ). They thoroughly enjoyed home made scones with jam and cream also little cupcakes topped with a union jack flag.
As always residents have been enjoying Facetime calls with their families.