Activities Update
Posted on: 22/01/2021
---
Here at Damfield every morning we work on our summer bodies and our residents enjoy our armchair exercise sessions.
We start of with our stretching and the session ends with a classic upbeat tune and the residents are up on their feet dancing.
We have had many reminiscing sessions were our residents remember fondly visiting places from their childhood and then went on to take their own children. Places such as New Brighton, or a trip on the Mersey Ferry were especially a popular topic.
Twice a week we enjoy bingo afternoons and other games such as play your cards right, tin can alley, jigsaws and ring toss which our residents say were games they played as children.
We enjoy regular karaoke sessions using our disco mic's. Some of our residents have their favourites they like to sing to the other residents.
Safely back was our long-awaited hairdresser and our residents are thrilled with their new hairstyles.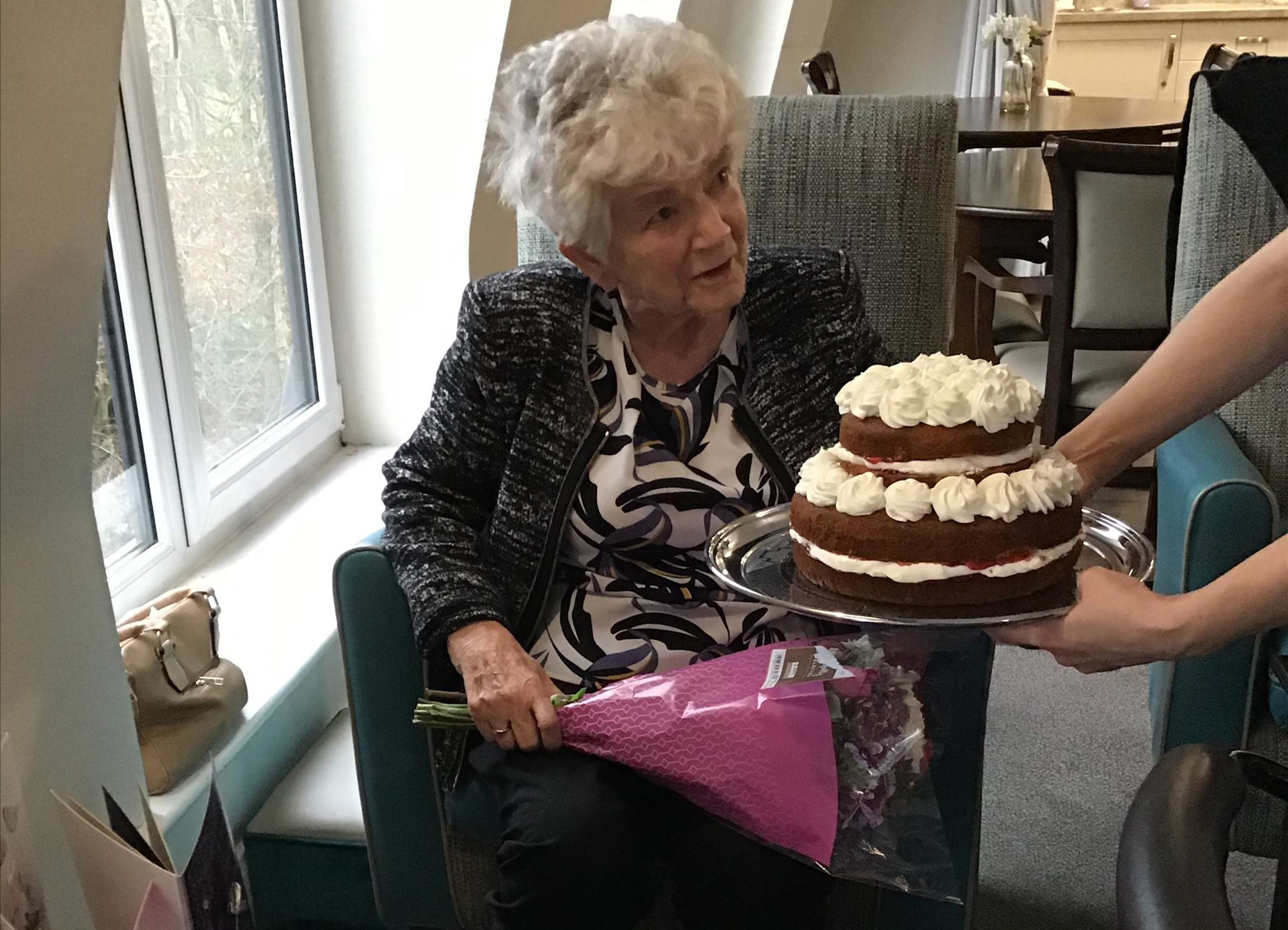 We have celebrated many birthdays this month and we have a birthday party in the afternoon. Our kitchen always makes a beautiful cake and it always ends up with us having a sing and dance.
We have also celebrated many special days in the calendar such as national chocolate day and squirrel appreciation day. Here at Damfield we are surrounded by lots of wildlife including squirrels and we enjoy watching them run around from our patio area.
We have also left out bird food and we regularly see many birds land. It's been especially nice to see robins at our bird tables.
During this week's arts and crafts afternoon session, our residents have been preparing for Valentine's Day. They have enjoyed creating cards to send to their loved ones as well as decorations to decorate our lounge areas.
Activities Update
Posted on: 29/04/2020
---
The Damfield family have been having a jolly time participating in outdoor activities and making the most of recently favourable weather. Our wonderful residents have also thoroughly enjoyed face-timing their loved ones. Additionally, they made some signs and flags prior to our brilliant garden performance.
The highlight of the week has undoubtedly been our 'Isolation Party' in which Bill from Happy Days entertainment came and put on a spectacular show for our residents. We had some residents outside spectating with the remaining residents watching alongside carers from the windows of their rooms. It was truly heart-warming seeing all the smiles on their little faces!
We had another celebration this week in the form of Josie's birthday, everyone enjoyed some delicious homemade cake from one of our fabulous chefs Maria. We finished the week looking at war memorabilia in preparation for our VE Day remembrance celebration on 8th May.
Activities Update
Posted on: 14/04/2020
---
Our lovely residents have had a jolly time this Easter week getting up to all sorts of various different activities. We've been making our own personalised Easter cards which was a particularly light-hearted activity with our residents making all sorts of wacky and wonderful cards! A local student named Sam also kindly wrote a thoughtful letter checking up on the wellbeing of everyone at Damfield Gardens, meanwhile, Eric was beside himself with joy at the Easter colouring he'd been sent by his grandchildren.
Activities Update
Posted on: 04/04/2020
---
We've been getting up to all sorts of activities this week, with a couple of favourites being 'High-Low card games' and 'Price is right'. We've been watching lots of movies with popcorn and ice lollies, with a TV session of Only Fools and Horses being our most popular with several of our lovely residents being glued for hours! Lots of laughter was shared over some games of skittles later on in the week, with several stand-out performers on display!
We also had a 'walk down memory lane' having nostalgic discussions about past sports, holidays and music, of course, it was bound to end with a sing-along and a good old dance!
Additionally this week some of our residents have Skyped their loved ones with emotional yet heart-warming scenes there for us all to see. We are setting our Ipad up so many more Facetimes will follow next week! Our residents also enjoyed something new yesterday as we betted on the horses which was great fun with a mixture of competitiveness and laughter shared amongst residents.
Activities Update
Posted on: 25/03/2020
---
Our residents have been having a fantastic time at Damfield Gardens, we've been having all sorts of internal activities taking place from chair exercises to sing-a-longs to bingo to playing games on our interactive table.
Earlier this week our lovely residents had an absolute ball playing outside in the garden including 'hop-skotch', boules and putting.
Everybody's favourite day of the week however was this Sunday which was Mother's Day! Lots of beautiful presents were exchanged as well and hugs and laughter with our kitchen making some scrumptious treats as always too.
Activities Update
Posted on: 06/03/2020
---
We started the week with a baking session hosted by Cece and assisted by Aimee. There was lots of engagement and uptake with this activity with our residents having a fabulous time baking various different cakes and goodies.
Geoff Owens came in to have a sing-a-long with our residents during the week, with everyone involved having a jolly good time. There was lots of dancing from our residents and care staff with smiles and laughter on display all around.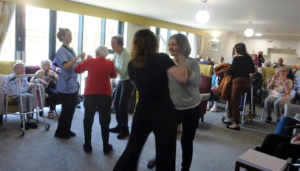 We also had a lovely lady come into providing chair-based exercises for our residents, helping to assist them in their mobility as well as passing time with something fun. Ron took the exercises seriously and got stuck in!
Activities Update
Posted on: 25/02/2020
---
Last week we invited Billy Thomas into Damfield Gardens from The Old Time Music Hall. Our residents had a fantastic time with a sing-a-long and some dancing with our ever-enthusiastic care staff.
Towards the end of the week a few of our residents participated in a new activity we've got at Damfield Gardens: 'velcro hat'. Even our quieter residents came out of their shell and engaged with this silly activity in which people wear a velcro hat whilst other throw small softballs trying to make them stick to the hat. One of our residents partook in this with her Mum who said they had a "real laugh".
On Saturday we hosted The Skelmersdale Community Singers, we had a fabulous turnout and a jolly good time and sing-a-long were had by all involved. Refreshments were present as well as a raffle in which we raised nearly £80 for our residents' fund.