January Activities Update
Posted on: 13/01/2021
---
Well… January is here, a new year & a new and improved activity regime.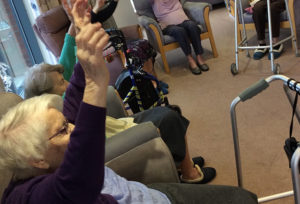 This month we have been focusing on getting back into shape and more active to blow off the cobwebs of 2020! Each morning has seen our residential floor residents walking, dancing & chatting up and down our spacious corridors, not being able to leave the home will not stop us being active, we have also thrown ourselves into a regular YouTube exercise video which the residents have thoroughly enjoyed.
We have tried our hand in some knitting and sewing, knitting simple squares, and getting our in-home knitter, Margaret B, to crochet them together to make a lovely lap blanket. We have also sewn a couple of fiddle cushions for our Emi floors to give them some stimulation when relaxing.
Hannah & Carly have both been putting together different weekend activities, including but not limited to, Virtual concerts, opening our lovely Coffee Shop, Crafty Saturdays, and Musical Therapy. We have also been logging on to St Marks' Church services on YouTube via our big screen.
We have recently taken up Home Baking, simple baking classes to keep the residents' sensory skills active i.e., sense of smell, taste, and touch. This has included, Chocolate Rice Crispy Cakes, Fruit Flans, Cupcakes, and decorating biscuits/cookies. This has been very popular on the ground floor as many of our ladies & Gents enjoyed baking growing up and it sparks them fond memories that they are willing to converse about with the group.
Our Friday afternoons, as always, are reserved for our weekly bingo games which our residents really look forward to each week, it brings everyone to the lounge who would not usually interact.
Activities Update
Posted on: 29/04/2020
---
The Collier's family have been thoroughly enjoying plenty of activities lately. We've all been making the most of the recently gorgeous weather, some of our lovely ladies have also been having fun making cards with the craft supplies that have been kindly donated by one of our resident's families.
Our residents were incredibly excited for their garden performance put on by Bill from Happy Days Entertainment, they enjoyed making decorations for our garden including meaningful signs, colourful flags and pretty dream catchers.
The undoubted highlight of the past couple of weeks was our fabulous 'Isolation Party' in our garden. Some of our wonderful residents watched in the garden whilst others enjoyed the performance from their bedroom windows in isolation alongside our conscientious care staff. Everyone had such a great time with beaming smiles from all our residents who weren't let down despite their excitement prior to the event.
To end the week our residents made posters for all our staff, their way of appreciating their tireless and selfless work. They also enjoyed exploring some virtual activities, with virtual shows and zoos being particularly popular!
Activities Update
Posted on: 04/04/2020
---
To start the week off we made lots of Easter cards to send to our families and friends, with our fabulous activities coordinators also arranging Skype calls between our lovely residents and their families.
On Tuesday our residents enjoyed making chocolate rice crispy cakes with the ground floor ladies and gents. In the afternoon we dug out our Nintendo Wii, with Rick excelling in 'Just Dance' and Dorothy enjoying a little run on Wii Fitness.
Some of our residents enjoyed Skype calls with their loved ones on Wednesday, it was very emotional yet incredibly heart-warming to see the joy on everyone's faces!
We ended the week by making lovely Easter messages to send to our residents' families to make sure they smile this Easter! We had lots of laughs in the afternoon playing 'ring toss', Betty, Mary and Margaret were the winners scoring an incredible 90 points each!
Activities Update
Posted on: 25/03/2020
---
This morning our residents took part in a painting session and expressed their artistic skills with our activities coordinator Carly.
Residents thought of their own messages to send to their families during isolation to lift everyone's spirits. This afternoon the residents enjoyed several games of bingo and then took advantage of the lovely sunshine and sat in the garden having a chat.
Yesterday the residents helped the activity coordinators spread a message to the community to keep smiling at this difficult time by putting rainbows, suns and clouds on the windows for passers-by to look at. They also took part in an exercise/dancing session to keep fit and have fun.
Activities Update
Posted on: 24/03/2020
---
Sorry we've been away for a while it's been a bit of a hectic time as I'm sure you can imagine! This update is from a couple of weeks ago but we'll have another to follow shortly so we are up to date.
On Monday our residents on the ground floor reminisced over old pictures of St Helens and old celeb photos. We had lots of 1950s replicas such as old ration books and old magazines which our residents really loved. In the afternoon we had our weekly exercise class which our top floor residents actively participate in we did chair exercises, basketball and chair cycling.
We had a sensory session Tuesday which our middle floor residents enjoyed, with everyone being mesmorised by all the lights. We also tried balloons games which went down a treat!
On Wednesday Happy Days Entertainment joined us at Collier's croft to entertain our residents, William was fantastic as ever really engaging everyone in what was a brilliant couple of hours. We held a charity event in the afternoon for Dementia UK called 'Time For a Cuppa', families were welcome and we also had a cake sale.
We were paid a visit from the nursery children on Thursday who played games with our residents on our interactive tables, our residents absolutely love it when the children come to play!
We ended the week with our weekly Friday bingo session which always gains full attendance and is a favourite amongst our residents.
Activities Update
Posted on: 24/02/2020
---
We opened the week by inviting our residents and their families into our coffee shop, we also brought along our new addition to Collier's Croft – our innovative electronic cat which our residents have named Ernie. In the afternoon St Mark's C of E Church came in to do a lovely communion with our residents, lots of singing and keyboard playing was done! Our ladies also enjoyed a pamper session in which they had their nails cleaned, filed and polished.
On Wednesday our residents went St Helen's town hall as they were invited for the Tea Dance. They thoroughly enjoyed reminiscing on their own dancing days, especially Vera, who even saw some of her old students she used to teach over 40 years ago!
Thursday was our very popular and ever-growing sensory session, our first floor residents love these sessions with old music, lights, different textiles and fiddle tabards.
Next week we will be celebrating our oldest resident's birthday, Doris will be 101 years old! We will have a small party for her with lots of champagne, her favourite drink.