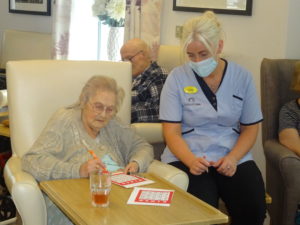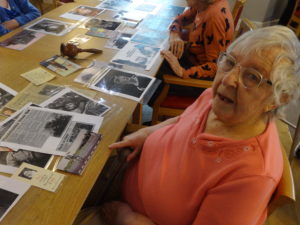 This month we have been graced with beautiful weather, we have been taking full advantage of this taking some of our normal indoor activities, outside.
Such activities include, outdoor sing alongs, walking, gardening and a variety of outdoor games and activities…
We have also been enjoying baking cakes and Shortbread biscuits, Rick, Dorothy & Margaret really enjoyed this activity and have asked for it to become a regular thing.
We celebrated the Queens Birthday with Bill from Happy Days Entertainment out in the garden, followed by a buffet tea and lots of scrumptious cakes and scones.
The residents got really excited about Ascot week, we made our very own Ascot hats and drank champagne and ate lovely jam & cream scones watching the races.
We have also been tending to our beautiful flower garden and hanging baskets we made, our flowers are blooming brilliantly!
Dorothy has been going outside each day to water the plants and turning the soil in the flower bed making it ready for potting the flowers.
Our Cafe has been open to the residents for slices of cake, tea, coffee, biscuits and crisps weekly.
The TUC shop has made another appearance this month, filled with lots of yummy treats for the residents to purchase, chocolates, crisps, sweets, drinks and a few toiletries.
To say the residents have been very busy is an understatement, from physical activities to relaxation sessions, we have had it all here at Colliers this month, July will be jam packed with different activity ranges to satisify all needs and abilities across the home.
Stay up to date with photos of your loved ones over at our Facebook Page to see daily updates from the Colliers Family.