We started the week with a baking session hosted by Cece and assisted by Aimee. There was lots of engagement and uptake with this activity with our residents having a fabulous time baking various different cakes and goodies.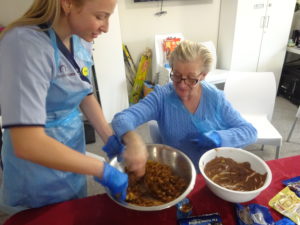 Geoff Owens came in to have a sing-a-long with our residents during the week, with everyone involved having a jolly good time. There was lots of dancing from our residents and care staff with smiles and laughter on display all around.
We also had a lovely lady come into provide chair – based exercises for our residents, helping to assist them in their mobility as well as passing time with something fun. Ron took the exercises seriously and got stuck in!